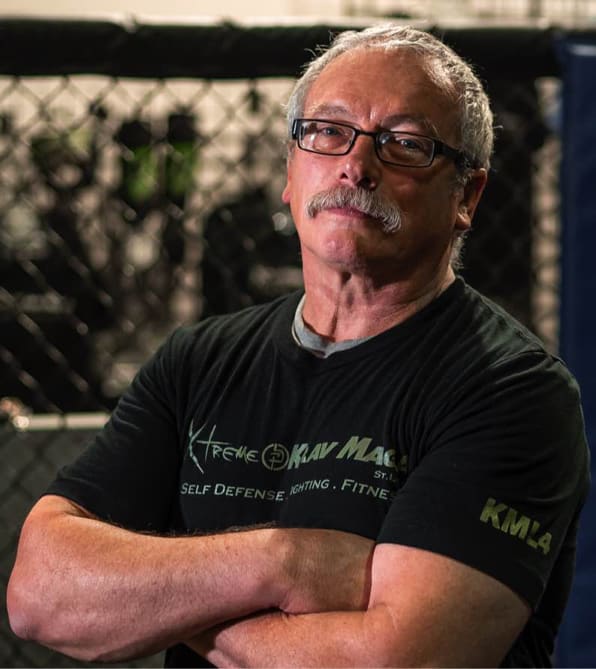 Tim Braloski
I was raised in a rough area of North St. Louis City and the ability to defend yourself and those around you was mandatory, Today's society is so questionable it is mandatory to learn how to protect ourselves and our loved ones.
Ultimately you are solely responsible for your own safety. I found out about Krav Maga from one of my students who absolutely loved it for self-defense.
After my first class I was absolutely convinced this is the best method to learn how to defend yourself. It is no nonsense and teaches you to be safe. While it focuses on fighting it emphasizes situational awareness as your primary focus in staying safe. I felt my years of being a very good and successful instructor in Tae Kwon Do and soccer, it just seemed natural to try out Krav Maga. I love Krav Maga, I love teaching and I love teaching Kids Krav Maga. The positive effect we can have on people's lives as teachers/instructors/coaches is amazing and one of the many reasons I am passionate about what we do at Xtreme Krav Maga. To see kids and adults become empowered by taking on their fears in training is so fulfilling.
My undying thanks to Steve Sulze who is a phenomenal instructor and gym owner, and my first instructor for noon Krav classes; Jesse Beebe my long time workout partner, and mentor in Krav; Jerry Schultz the best instructor, and of course the Legend, Kent Butzin!
I am 66 years old and feel very fortunate to still be active in physically demanding endeavors. I have survived a STEMI heart attack, more than several serious accidents and injuries and 2 TBIs one occurring in the Marines, the other which was 2012. I make no excuses for the shape I am in. When I was in my youth and prime, I fought all the time, sometimes as a matter of survival and usually without weapons.
That exposure helped shape who I am and how I teach and my approach to self-defense.
I have been married for 43 years to my wonderful wife Vicky and have two children, William and Chelsea and two grand children Ryland and Elenore, all of whom I love very much.
My hobbies are being outdoors, mechanics, boating, TKD, fishing, and Krav Maga.