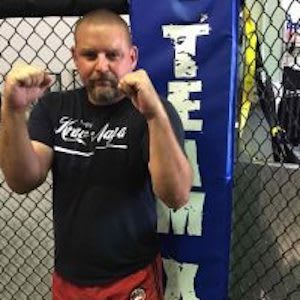 Chris Ruland
Chris has spent his life working outdoors in the landscape industry and loving physical activity. His passions include raising his children, mountain biking, hiking, fitness, guitar and Krav Maga. Other than raising his children, Krav Maga is by far his favorite activity. He first started his training in early 08 and was addicted right away. From the start, he put in at least three to seven hours a week training. He instantly fell for the highly effective, no nonsense, train under stress approach to Self Defense.
As an instructor he will consistently motivate students to excel in fitness, mental awareness, and the mastering of techniques & combatives so students will be prepared to deal with any violent physical encounter if and when one should happen.
Chris has been privileged to be able to train under instructors who are true to the principles and goals of Krav Maga Worldwide. Instructors who have been trained by the best and were willing to pass on what they had learned. He has recently begun MMA and Jiu-Jitsu training with Brian Mitchell and Danny O'Connor and because of these guys, has a new respect for ground fighting.
He has also attended seminars with Sam Sade- Lead Krav Maga Worldwide Instructor and Jon Pascal- Director of FORCE Training Division for Krav Maga Worldwide.
Classes Taught:
Krav Maga, Xtreme Fitness
Krav Maga – Phase B Instructor Certified
Fit To Fight – Phase A Sparology Certified
IDS Level 1 Instructor