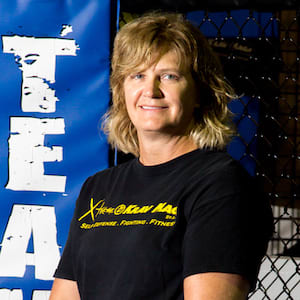 Patti London
Patti was introduced to Krav Maga in 2006. When Patti started, she was lucky enough to have Sam Sade as my lead instructor. At the time, her job required international travel. The self-defense provided me with the confidence I could protect myself if necessary and I loved the fitness training.
Patti's competitive sports included swimming, basketball, softball and karate, she played on both Domestic and International Softball teams growing up. Patti was a member of the 2006 Woman's USA Shito-Ryu Karate team that attended the World Championship in Japan.
Patti has been married to her best friend for 17 years and has two children. Her husband, Philip and both of their children, Justin and Nicoll currently train at Xtreme Krav Maga & Fitness St. Louis.
Classes Taught:
Kids, Girl Scouts, Krav Maga Self Defense
Krav Maga Worldwide- Phase B Instructor Certified